Sunderland striker Jermain Defoe has surpassed the 150 Premier League goal tally in November whilst hoping that he would eventually break the record set by Liverpool legend Robbie Fowler.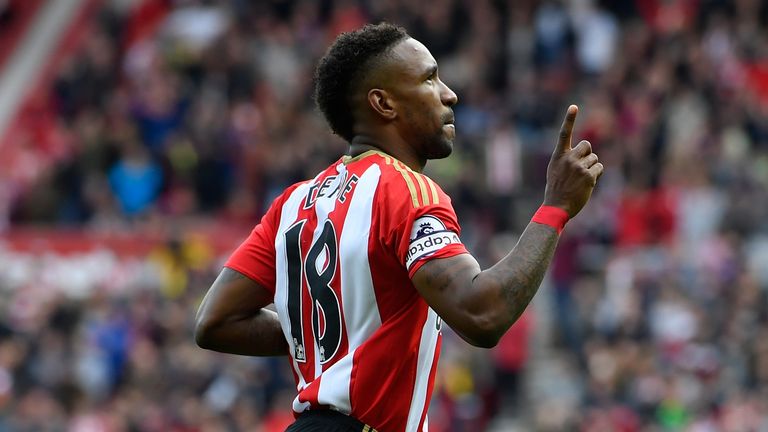 The English player hailed Fowler as one of the best strikers in the history of English football.
"Someone like Robbie Fowler, in my opinion he's one of the most natural finishers that this country has produced. I remember his goals, nice clean finisher, not much backlift," Defoe told Sky Sports.
The 34-year old forward scored his 150th in the 3-0 triumph over Hull City last week. He still has a lot of work to do as he is intent on breaking Fowler's record f 163 goals, particularly as he only just equalled
Michael Owen's record who used to be seventh on the All-time Premier League top scorers.
Acknowledging the tough task ahead, Defoe said:
"If I can go above him, it would be special. It's a long way to go but I'll just take them as they come I always believe that each game I play I'll get a chance or half-chance and it's just down to me to take it."

Alan shearer sits comfortably on the list with 260 goals in 441 games played. Wayne Rooney, Andrew Cole, Frank Lampard and Thierry Henry take the top five spot respectively.
Defoe almost ended his Premier League career when he moved to America to play for Toronto FC in 2014. Eventually, he returned to Tottenham on a loan deal before moving to Sunderland in the January transfer window last year. His goals ensured they remained in top-flight English football. They are in the relegation zone again, and hopefully Defoe's goals can help them again.
"I've always enjoyed scoring goals. I've still got that same buzz. Even when I score in training I've got the same buzz," Defoe added.